Wellplaece well-placed to dominate dental procurement market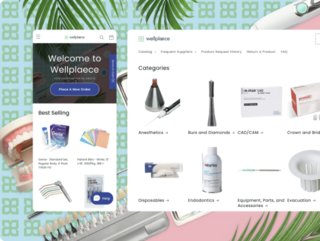 Wellplaece well-placed to dominate dental procurement market
Innovative platform 'Wellplaece' set to take over the dental supplies procurement market through networking and sales platform that offers e2e procurement
Wellplaece's procurement marketplace for dental supplies has recently been spotlighted in a TechCrunch article, underlining the importance of this niche (yet widespread) market segment.
With an average reliance on three to seven suppliers, dental professionals have traditionally spent considerable effort comparing prices and deals across various vendor websites, and as ever, the challenges were further magnified during the global pandemic when supply chain disruptions made it increasingly difficult to source essential items like masks and gloves.
Seizing opportunities
Recognising the need for a solution, Caen Contee, co-founder of the global micromobility startup Lime, joined forces with software engineer Ivan Bertona to develop Wellplaece.
This innovative platform transforms the procurement experience for dental offices by automating the purchasing process and connecting them with a wide network of suppliers.
The core technology of Wellplaece acts as an optimisation layer on top of the conventional procurement system.
Data analytics
By leveraging data analytics, the platform identifies specific customer needs, preferences, and purchasing patterns. This enables dental practices to make tailored purchases through a unified shopping cart, simplifying the procurement process and enhancing efficiency.
Wellplaece's proprietary technology seamlessly integrates with a client's ordering data, taking into account individual requirements and preferences.
By aggregating this information, the platform empowers dental professionals to make informed purchasing decisions across multiple suppliers, all within a single interface.
According to TechCrunch, one of the key benefits of Wellplaece is its streamlined billing process. After successful order placement and delivery confirmation, the platform handles the billing on behalf of the dental practices.
End-to-end Logistics
Wellplaece also manages the logistics, including order tracking, returns and chargebacks; providing a comprehensive procurement solution.
The Wellplaece platform is provided to dental practices free of charge. Instead, the company operates on a revenue-sharing model, earning a portion of the sales it generates for the suppliers in its network.
This approach ensures a win-win situation for all parties involved, with dental practices benefiting from a simplified procurement process and potential cost savings, while suppliers gain access to a broader customer base.
The timing of Wellplaece's launch is propitious. The platform's development was facilitated by several factors, including the accelerated adoption of e-commerce during the pandemic.
Distributors, recognising the need to adapt, embraced online sales and customer portals, leading to the creation of comprehensive online catalogues.
Inception to expansion
Since its initial rollout in November 2022, Wellplaece has garnered positive feedback from a select group of dental practices participating in the platform's private beta.
These early adopters have already experienced significant savings ranging from 20% to 40% on their procurement expenses.
With a rapidly expanding network of distributors and manufacturers, Wellplaece offers dental professionals access to over 700,000 products.
The platform is poised for substantial growth, with plans to onboard more than 100 new locations by the end of this year. To support its expansion, Wellplaece recently secured US$5.5m in funding through a successful seed round.
Notable investors in this round include Eniac Ventures, Bee Partners, Erik Anderson (co-founder and CEO of WestRiver Group), Haroon Mokhtarzada (co-founder and CEO of TrueBill and RocketMoney), Andy Oreffice (former CCO of Affordable Healthcare), and entrepreneur Francis Hellyer.
The additional funding will enable Wellplaece to scale up its operations and cater to the growing demand from dental practices seeking a more efficient and cost-effective procurement solution.
By helping practices optimise their supply expenses, Wellplaece aims to empower dental professionals to redirect resources towards enhancing patient care and overall practice efficiency.