Top 10 Procurement websites in 2022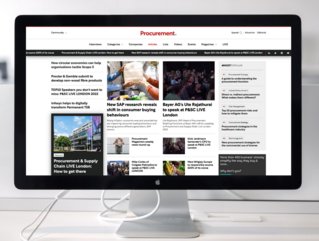 With procurement developing at breakneck speeds it can be difficult to know where to go to get your latest procurement news. Here's our top 10 list…
There's no end to procurement news and information sources. It can be difficult and time-consuming to sift through the debris of worn-out data to find the nuggets of insight that procurement and supply chain professionals need, and time, is a central matter in this industry.
So, to save you some, we have collated the top 10 procurement websites out there, and ranked them according to utility. We begin with number 10...
The Art of Procurement website is full of interesting materials such as white papers, blogs and podcasts to help procurement professionals understand the landscape and stay up to date with the latest procurement topics and developments. It was put together by procurement professionals to help change-oriented procurement leaders accelerate transformation through inspirational content, thematic digital events, a learning community, and expert-led advisory services.
Self-described as 'the site for chief procurement officers and leaders in procurement', CPO Rising provides engaging articles and information that entertains while edifying procurement readers. It's also the largest website focused on procurement and supply management, and was established by the well-known-to-proc-circles analyst, Andrew Bartolini, who also happens to be the founder & chief research officer at Ardent Partners.
The 'Dive' aspect of SupplyChainDive is so named because of its level of analysis. This site helps procurement professionals to simplify complex and perhaps increasingly complicating subjects. SupplyChainDive is a strong source for daily procurement and supply chain news content. They offer a daily email newsletter and have their own app for ease-of-access to procurement news and updates, and also offer opinion pieces to help untangle sometimes seemingly-impenetrable aspects of procurement. Bookmark this one.
The name's in the tin with this one. Procurement Leaders is known as the world's most valued procurement network, and a community for CPOs and their leadership teams. Aiming at procurement executives, Procurement Leaders crafts high-level knowledge and expertise through insights, studies and webinars, enabling the upper echelons of Procurement to garner the information that they need to stay ahead of the game. The increasing focus on business resilience means procurement's position is unique. It has the power to elevate innovation, risk mitigation, sustainability, disruption, teams and transformation, and Procurement Leaders prides itself on providing the necessary compass to empower executives to be effective in their field.
Procurious is a procurement social network, and the world's largest procurement networking and supply chain community of 41,000+ members. The network is split into several niche groups to meet your procurement needs, and the site also offers featured posts from both procurement leaders and members. It also acts as a news site that curates supply chain news from around the web. Procurious has held thousands of events, provided critical news and interesting thought leadership, but most importantly has given everyone in the industry the opportunity to 'get involved and get ahead'. Procurious is the democratic face of the procurement world.
Spend Matters offers free daily articles for procurement and supply chain professionals. They also have a PRO service, which is a paid member program that delivers procurement and supply chain professionals an information advantage by providing original thought, insightful analyses, and unbiased opinion that doesn't hedge, obfuscate, or pander. Spend Matters PRO members have access to their new Premium Research library which includes downloadable versions of Spend Matters PRO content (amongst other exclusive goodies). The difference between the free and premium service is that Spend Matters PRO delivers a level of depth, insight and analysis that goes far beyond what is available in the public domain or from other research and analyst services. It also provides concrete recommendations and takeaways to help procurement professionals, consultants and technology providers make both strategic and tactical decisions.
Buyers Meeting Point is where Procurement goes for trusted resources and insights. Established by Kelly Barner, a professional with 15+ year in various roles in purchasing and procurement, Buyers Meeting Point provides the procurement industry with an events calendar, blog, content and an active social media network, all of which are trusted sources of information for practitioners and solution providers alike. With high-quality articles covering everything from digital transformation to supplier relationships and spend management, this website is one not to be overlooked by procurement and supply chain professionals.
Institute for Supply Management (ISM) is the first and largest not-for-profit professional supply management organisation in the world. ISM has over 50,000 members across 100 countries. And has, for more than a century, impacted supply management and the purchasing profession through best in class education, certification, leadership development and research. ISM also publishes the monthly 'Inside Supply Management Magazine', as well as procurement reports, news and publications in procurement and supply chain.
Supply Management is the official CIPS (Chartered Institute of Procurement & Supply) website. Since CIPS is the world's largest professional body serving procurement and supply who are a not for profit organisation, the information it provides is of a high calibre, focused and detailed. Supply Chain Management's portfolio includes a regular magazine and daily news, opinion and procurement content. Members gain access to more than 15,000 articles. Supply Management connects suppliers to procurement and supply chain decision makers who drive change, consensus and transformation in their business through a global network of 200,000 procurement and supply influencers in 150 countries who have procurement at the heart of their organisation.
Think, 'all of the above' served up to you in palatable form. Procurement Magazine is the procurement storyteller and covers every procurement and supply chain issue from A to Z. The website delivers daily news stories on everything from executive and company profiles, to analysis pieces, evergreen content, recommendations, proc., supply chain, spend management, data, transparency, resilience, risk management, disruption, sustainable sourcing, circular economies, tech, ESGs and more. Exhale. The Bi-Monthly magazine runs Trailblazers, 'five minutes with executive' articles and then some. Procurement Magazine is the trusted and established source for all of your procurement and supply chain needs and questions. Dive in and see for yourself.