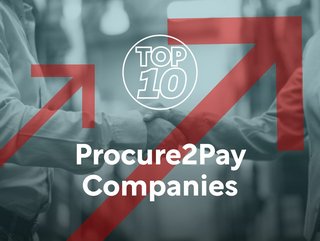 Top 10 Procure 2 Pay Companies
Procurement Magazine takes a closer look at the Top 10 'P2P companies'
​​​​​​​Procurement Magazine takes a closer look at the Top 10 'P2P companies' as businesses look to leverage AI to their approval flows to make sure negotiated savings actually reach the bottom line.

Medius
CEO: Jim Lucier
Medius' full-suite of e-procurement solutions include P2P, as well as strategic sourcing, data insights and more. Founded in 2001 in Sweden, it now has 400 employees operating from offices across Europe and the US.
The company says close to 4,000 customers and more than 500,000 unique users use Medius' spend management solutions globally, managing transactions worth more than $160bn annually. Wax Digital, the cloud-based e-procurement company, was acquired by Medius in 2019, strengthening its end-to-end spend management solutions.
​​​​​​​Zycus Procure to Pay Suite
CEO: Aatish Dedhia
The Zycus P2P tool provides a range of features including guided buying that auto-suggests categories from free text searches or prompts users to fill guided e-forms with relevant specifications in case of first-time products and services. The system helps establish improved spend management, by ensuring internal stakeholders only buy through preferred suppliers. It also offers process efficiency with zero coding workflows, real-time spend visibility, flexible chart of accounts, guided buying, dynamic discounting, automated invoice extraction and 3- way matching of invoices which allows for an increase in process efficiencies in addition to the financial savings that are generated.
Proactis Procure-to-Pay
CEO: Stephen Line ​​​​​​​

Proactis Procure-to-pay is an integrated procurement solution that the company says takes the 'online shopping experience' for users to the 'next level'. The software assigns the correct steps in the buying process through guided buying, so even occasional users can navigate the process themselves, while the order requisition process ensures that orders are placed with preferred suppliers and fit with compliance requirements. The platform offers features including automated approval workflows, real-time spend analytics, and supplier collaboration tools. By centralising procurement functions, Proactis P2P gives businesses better visibility into spending, helps to enhance supplier relationships, and drives cost savings.
Basware P2P
Interim CEO: Jason Kurtz
Basware advocate a 'high value, low risk' approach to P2P by starting with invoice automation. Basware is a trusted global leader in the industry and their P2P solutions offer end-to-end automation, integrating procurement, invoicing, and payment functionalities into one seamless system.
Basware's P2P solutions look to provide organisations with greater visibility, control, and efficiency through every level of their procurement operation. By automating manual tasks, reducing errors, and centralising data, businesses have the opportunity to enhance collaboration with their suppliers, negotiate better terms, and ultimately achieve cost savings.
Ivalua Procure-to-Pay
CEO: David Khuat-Duy
Ivalua say their P2P solution is unique in how it equally satisfies procurement, suppliers and the wider business. Their platform allows the digitisation of the P2P process for all categories of goods and services, increases contract compliance, reduces maverick spending, improves cycle times and is part of a unified platform for all spending.
Ivalua also offers a jumpstart package to digitise the P2P process in a few weeks, as it is equipped with built-in configurations. It offers a user-friendly platform that integrates procurement, invoicing, and payment functionalities, ensuring greater efficiency and cost savings.
Oracle Procurement Cloud
CEO: Safra Catz
Oracle Procurement Cloud is part of a package of Oracle Cloud modules that the company believes delivers a step change in modern financial management. Their P2P solution provides an innovative solution designed to streamline the procurement process for all levels of business. The tool uses cloud technology and offers a user-friendly platform to manage supplier relationships, sourcing, contracts, and purchasing activities. It offers real-time insights and analytics, to help business make informed decisions, improve supplier performance, and locate cost efficiencies. It automates manual tasks, such as requisitions and approvals, and is known for incorporating security features to help safeguard sensitive data and ensure compliance with regulatory requirements.
GEP SMART
CEO: Subhash Makhija
GEP SMART is a leading P2P solution, and part of a unified procurement software platform that GEP promotes as being built by procurement professionals, for procurement professionals.
It unifies upstream sourcing and downstream procurement operations into one cloud platform with capabilities for direct and indirect spend management. It is recognised for having a user-friendly interface and has easily customisable features to help streamline business procurement operations and identify areas where a competitive advantage can be found.
JAGGAER ONE
CEO: Andy Hovancik
Jaggaer One is a cloud-based procurement and supply chain management solution from US software leader Jaggaer. Their One system helps to empower businesses to improve their sourcing processes, relationships with suppliers, and overall procurement efficiency. The P2P solution also provides a comprehensive suite of linked tools, including options like spend analysis, sourcing, contract management, and supplier management. Jaggaer One's interface is known for being user-friendly and their powerful analytics tools let businesses gain real insight into their procurement data, which can help identify cost-savings, and mitigate any hidden risks effectively. The company is known for a focus on innovation and customer satisfaction, and so remains as one of the go-to choices for companies trying to drive cost savings, achieve excellence in procurement, and establish resilient supply chains.
Coupa BSM Platform
Interim CEO: Charles Goodman
The Coupa Business Spend Management Platform is one of the world's leading cloud-based solutions that has helped to change how businesses manage P2P processes. It is known for having an intuitive and user-friendly interface and gives businesses the chance to gain real-time visibility into spending across their departments. As well as helping with P2P it includes a wide-ranging suite of modules that cover procurement, invoicing, expense management, sourcing, and contract management. Like many modern software offerings, Coupa BSM uses AI and machine learning to optimise spending decisions, find and surface potential savings opportunities, and help with policy compliance. By improving access to usable data and automating tasks, the system lets businesses drive cost efficiency, improve supplier relationships, and make smarter, data-driven decisions.
SAP Ariba Buying and Invoicing
CEO: Christian Klein
German software giants SAP operate Ariba, which is a leading cloud-based procurement and supply chain management platform. The system streamlines the procurement process by connecting buyers, partners and suppliers on a digital marketplace. The software allows businesses to source, negotiate contracts, manage supplier contact, and handle procurement. It is known for a user-friendly interface that sets up collaboration between all parties and leads to better transparency and compliance. Ariba includes analytics and reporting tools that provide insights to optimise spending, supplier performance, and find cost-saving opportunities. All of these tools and solutions help businesses achieve better outcomes to their procurement operations, whilst building strong relationships with their suppliers.