Oryx Energies manages global spend with GEP's AI software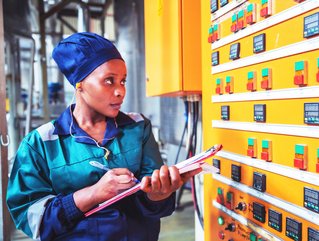 Leading African energy company - Oryx Energies - selects GEP for its supply chain and procurement digital transformation
Swiss energy company - Oryx Energies - manages its global spend with the help of GEP's AI-driven procurement and supply chain software - GEP SOFTWARE
There are many benefits to applying artificial intelligence (AI) to spend management, increased accuracy; fraud reduction; increased speed and efficiency; better insights and reporting; and enhanced user experience are just a few.
With 91% of businesses engaging in some form of digital initiative (Gartner), Oryx Energies - Swiss energy company and largest independent provider of energy products and services in Africa - has furthered its procurement and supply chain digital transformation with the help of GEP.
Following a competitive selection process, GEP's AI-driven procurement and supply chain software - GEP SOFTWARE - has been selected by Oryx Energies to transform and automated its source-to-pay (S2P) process including sourcing, supplier management, contract management, and accounts payable.
As part of its services, GEP has a dedicated energy and utilities sector team, able to provide a comprehensive and integrated portfolio of solutions to help address the complex and multilayered challenges of modern organisations.
What is GEP SOFTWARE?
Encompassing both GEP SMART - the world's best procurement software - and GEP NEXXE those that implement GEP SOFTWARE can benefit from optimum efficiency, agility, visibility, and actionable intelligence into all procurement, purchasing, and supply chain functions, as well as eliminate burdensome infrastructure and support costs to achieve maximum ROI.
GEP SMART
Dubbed the world's best procurement software for a second year in a row, GEP SMART helps organisations to digitally transform end-to-end procurement operations with AI-powered and cloud-native procurement software.
Built for procurement professionals by procurement experts, GEP SMAT is a comprehensive solution for direct and indirect procurement, unifying upstream and downstream procurement operations, and automating the S2P processes.
Key features of GEP SMART include spend analysis, savings tracking, sourcing, contract management, supplier management, and procure-to-pay (P2P).
GEP NEXXE
Enabling real-time visibility and collaboration across complex supply chains, GEP NEXXE is a unified, sustainable, and resilient supply chain platform to help procurement and supply chain professionals navigate complex and volatile supply chain disruptions.
To help ensure business continuity, and resilience, reduce costs, fulfill customer demand, and support business growth, GEP NEXXE is built to operate in these volatile business environments to deliver robust and comprehensive supply chain management functionality.
Powered by GEP MINERVA coupled with real-time visibility and cloud technology, GEP NEXXE enables seamless collaboration with multiple tiers of suppliers, logistics providers, and partners. The embedded technology allows users to leverage unstructured data and run predictive and prescriptive analytics.