McKinsey on M&A as an opportunity to transform procurement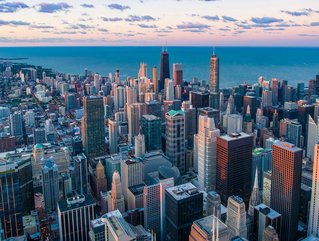 McKinsey on M&A as an opportunity to transform procurement
McKinsey looks into how Mergers and Acquisitions provide a fertile ground for effective procurement transformations in their latest report
A recent McKinsey & Company report has put forward the idea that mergers and acquisitions create opportunities to reinvent the procurement function, "turning it into an innovation engine and strategic partner to business leaders".
In an inadvertent way, this aligns with the idea that organisational transformations are best executed earlier on in an organisations maturity journey - and the earlier the better, although of course, this definition seems to go against the very idea of what a 'transformation' actually is, especially in terms of procurement.
Strategically, what's being pointed to in this philosophy is that fundamental changes should not be superficially 'tacked on', but need to be 'baked in' to an organisation's inherent MO.
McKinsey proposes that mergers and acquisitions offer such an opportunity. It says that companies navigating integrations must manage competing priorities across all functions, "from business continuity to value capture to organisational and operating-model redesign." "However," it says, "the current period of supply chain disruptions and spiking inflation makes procurement a particularly important function to get right."
In McKinsey's own experience, procurement "typically contributes a third or more of the total synergy value in an integration, most of which can be captured within 12 months of deal close."
It says that synergies usually don't require workforce reductions that can affect company morale. By promptly delivering benefits, procurement can help set the pace for the overall integration and quickly demonstrate the value of the combined company to shareholders.
The logic goes that many companies concentrate on stabilising the procurement function and gaining synergies that are closely tied to the merger, like harmonising prices. They defer making decisions on significant functional changes until the integration is fully accomplished.
On the other hand, successful organisations seize the integration opportunity to transform the combined company's function, pushing procurement towards functional maturity within two years of deal closure. From their interactions with clients, McKinsey has realised that such early measures can potentially double the value of procurement synergies and establish the groundwork for a forward-thinking procurement organisation.
McKinsey offers a "spectrum of procurement maturity" to highlight the point.
McKinsey spectrum of procurement maturity
McKinsey says that to understand the potential of transforming the procurement function during an integration, "corporate leaders need to first evaluate the maturity of the legacy procurement organisations.
"Functional maturity can be thought of as a spectrum, spanning five stages that range from cost-focused order taking at one end to a cross-functional, digitally enabled innovation engine at the other."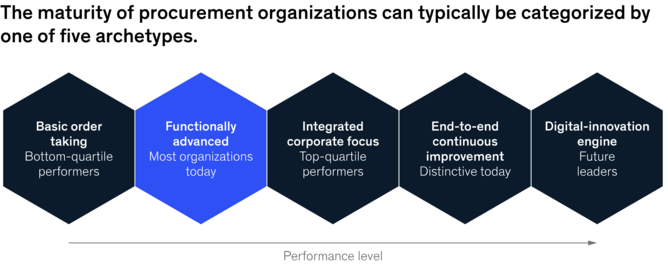 Source: McKinsey
On the maturity landscape, McKinsey offers the following:
The Spectrum of Procurement Maturity
Basic order taking

In some organisations, procurement operates primarily as a back-office support function. Spending on large categories is often siloed or managed by individual business units, while small or indirect categories may receive little or no central management.

Procurement professionals in these organisations typically focus on optimising purchase price as well as providing basic service levels and efficient execution.

Processes are largely manual, with few controls and limited visibility into spending. These organisations typically rank in the bottom quartile of procurement value delivery.

Functionally advanced

In this archetype, which characterises most large companies today, the bulk of spending is managed centrally. Category strategies (including some demand and specification management) are refreshed regularly, and the organisation uses standard processes for sourcing (such as requests for proposals and negotiations) in collaboration with other functions. Digital tools may automate some basic reporting on metrics such as spend and unit price by supplier, but more sophisticated analytics are performed manually.
Integrated corporate focus

In top-quartile procurement organisations, the function is tightly integrated with all other business functions. It acts as a strategic partner, going beyond price to provide business leaders with a total cost of ownership view, and creates a robust set of demand and process controls around specs, spend-limit approvals, and other procurement elements. As a steward of all spending, procurement applies sophisticated systems and compliance processes to maximise cost efficiency.
End-to-end continuous improvement

Top-decile performers go further, working directly with vendors and customers to uncover new sources of value. For example, procurement may use its advanced analytics capabilities to help suppliers identify new formulations or manufacturing efficiencies that deliver benefits both can share. Procurement professionals may also work directly with customers to better understand their needs and use that input to influence corporate decisions on product design, service levels, and pricing. The function is a consistent source of innovation, making it a draw for top talent.
Digital innovation engine

Cutting-edge procurement organisations go further still, leveraging digital technologies to optimise the full value chain. These organisations lead the pack in the use of predictive analytics and forecasting to enable the business, its suppliers, and its customers to take a proactive approach to value creation and risk management. Whereas most organisations are opportunistic about identifying interventions or improvements to the procurement process, organisations in this category employ formal mechanisms such as annual customer surveys and quarterly ideation sessions with suppliers to generate insights and innovations. In these organisations, procurement becomes the training ground for the future leaders of the company.
"As procurement organisations move up the maturity scale, their ability to deliver value to the business, both financially and strategically, grows," the report says.
The article goes on to offer 'Levers of Transformation'.
In today's environment where supply chain disruptions and increasing costs are a major concern, several companies are seeking means to optimise the efficiency of their procurement functions.
Typically, such enhancements involve a combination of four mutually reinforcing modifications:
Redesigning the procurement operating model
Elevate the role of procurement as a strategic partner
Embedding digital in every aspect of the function
Upskilling the team
As several of these levers are activated during integrations, revamping procurement concurrently can result in faster value generation, reduced overall expenditure and lesser organisational disruptions than initiating the process post-integration.
The Levers of Transformation
Redesign the procurement operating model
To achieve the maximum value from the procurement function, it is essential to establish an operating model that aligns with the appropriate scope of spend. Each spending category requires a distinct role for the procurement function, ranging from providing counsel on supplier negotiations to leading overall spend management and purchasing by suggesting potential savings opportunities.
Once the role is determined, the function must adopt an appropriate operating model, including the required governance, processes, tools and personnel, to effectively execute its role.
The operating model redesign might involve resolving issues such as centralising or decentralising particular tasks, such as purchase order placement, hiring new skills, like "should-cost" modeling, and defining roles and responsibilities, such as assigning strategic and tactical initiatives to separate roles.
Elevate the role of procurement as a strategic partner
To implement this, the procurement function should be included in operations, product development and commercial discussions that can impact the supply chain. For smaller or less mature organisations, this may require creating or expanding the indirect procurement function to seek savings in categories such as office supplies, IT, or maintenance, repairs and operations.
The integration's focus on procurement synergies, coupled with the broader reorganisation brought about by the merger, can present an opportunity to elevate the procurement leader to a higher position within the organisation, potentially reporting directly to the CEO instead of the COO or CFO. This emphasises the strategic importance of procurement rather than treating it as an administrative function.
Embed digital in every aspect of the function
Not only does this approach speed up integration planning and execution, but it also establishes a foundation for a sustainable digital strategy. Digital tools, for instance, can enable each legacy organisation to validate their own data pre-close while a clean team examines the combined data set.
By carefully selecting these tools, they can also become a part of the combined company's long-term digital toolbox, allowing for real-time visibility into spending data, contract information and potential savings opportunities.
Since integrations usually involve substantial changes to core IT systems, it's a suitable time to evaluate the entire procurement toolset and upgrade existing technology, especially since digital procurement tools have seen significant advancements in recent years.
This will not only enable better integration but also improve the overall procurement function in the long run.
Upskill the team
To unleash the full potential of the procurement function, employees must embrace new responsibilities that demand diverse skills from what they currently possess. High-performing procurement organisations excel in areas like automated supplier management and predictive analytics.
They foster joint innovation with suppliers, leverage should-cost modeling and technical proficiency, and drive comprehensive category management that shapes pricing and product innovation decisions.
Once the future role of the function has been determined, business leaders should identify the critical capabilities needed and decide whether to cultivate them internally or externally through recruitment.
Putting transformation levers to work
The report states that in order to unlock maximum value during integration, companies must utilise various levers for transformation. It gives the example of a large industrial distributor that transformed its procurement function from a cost-focused entity to a digital innovator focused on margin expansion.
It says that this transformation involved creating a cutting-edge tool for SKU substitutions, optimising inventory positions, and consolidating vendor orders to shorten delivery times. The distributor also expanded the procurement function's role to include customer-centric elements and embedded technology to support the expanded scope.
The successful execution of this vision required a redesign of procurement's operating model, retraining the legacy team, and recruiting talent with digital capabilities. The transformation helped the company exceed its three-year cost-synergy goal within six months of deal close.
Similarly, a midsize chemicals company elevated the role of procurement during a merger. The company elevated the chief procurement officer to ensure the function had a voice in key decisions and created a team to manage indirect procurement, it says.
The company invested in training to enable procurement employees to fulfil the function's expanded responsibilities. Through the transformation, the procurement function went from the lowest maturity level to a functionally advanced level and achieved almost double its synergy target, sustaining the captured value over the long term.
The report ends with McKinsey's insight into the keys to success for such a transformation to be achieved.
The Keys to success
To successfully elevate the maturity of the procurement function during an integration, the entire organisation needs to be committed to the transformation. The C-suite must lead the charge and provide the necessary support, as they are the most important factor in determining the success of the initiative.
They need to clearly communicate the essential role that procurement plays in creating future value, and invest in the necessary capabilities and talent acquisition to achieve that vision.
In addition, incentivising support from functional and business unit leaders by holding them jointly accountable for savings targets can help ensure that procurement is involved in important conversations.
It's essential to set the tone for the integration before the deal is closed. To determine whether a procurement transformation is necessary during the integration, companies should start with a comprehensive pre-close assessment of the legacy companies' procurement organisations, typically performed by a clean team.
This assessment includes analysing the combined spend database to estimate the value at stake, evaluating the maturity of the legacy company operating models, and defining the aspiration for the future-state procurement function.
If the decision is made to pursue a significant transformation, creating a comprehensive pre-close roadmap can help clarify the necessary steps and accelerate value delivery.
These actions greatly increase the likelihood of a successful integration and procurement function transformation.