Five key findings: GEP Global Volatility Index September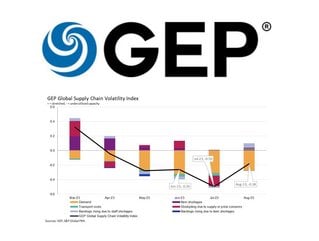 Five key findings: GEP Global Volatility Index September
There is weak global demand and spare supplier capacity according to the GEP Global Supply Chain Volatility Index
The index is a leading indicator for procurement and supply chain professionals regarding conditions, shortages, transportation costs, inventories and backlogs based on a monthly survey of 27,000 businesses.
The index recorded -0.18 in August, compared to. -0.50 in July, showing sustained idle capacity at global suppliers as demand conditions remained subdued and procurement managers stayed cautious.
Commenting on the August data, Neha Shah, president, GEP, said: "Our data shows that we're currently on a fine line hovering between recession and stagnation. Despite many months of excess global supply and subdued demand, companies can expect rising costs from petrochemicals industries, shortages of certain commodities, including sugar, rice, and wheat, and also wage pressures in some sectors because of the effective collective bargaining by employees."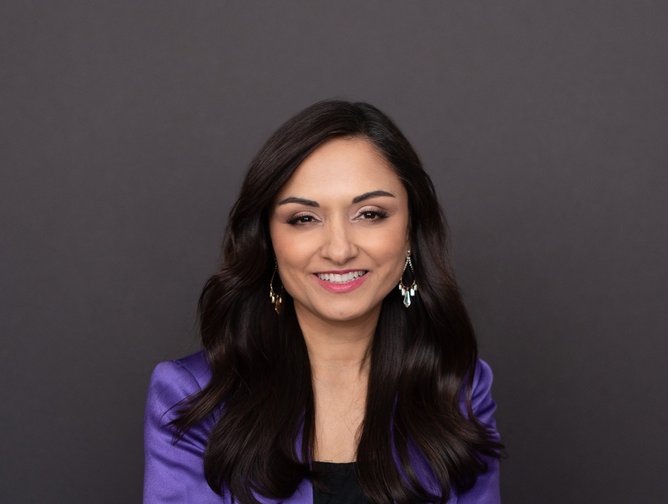 Neha Shah, President and Co-Founder of GEP
August 2023 Key Findings
DEMAND: Demand for raw materials, commodities and components continues to deteriorate at a similar pace to that seen in the other summer months, with little improvement seen at all in 2023. Europe led the downturn in purchasing, followed by North America.
INVENTORIES: Global businesses continue to demonstrate little appetite for building up their stocks, with inventory managers unwilling to hold surplus stock.
MATERIALS SHORTAGES: Supply shortages have ended, with reports of item scarcity now in line with historically normal levels.
LABOUR SHORTAGES: Labor shortages are having a limited impact on companies' ability to meet global demand, although manufacturers in Europe and North America have experienced some renewed issues with staff availability.
TRANSPORTATION: Having fallen to their lowest since January 2016 in July, global transportation costs ticked higher in August amid rising pressures on oil prices.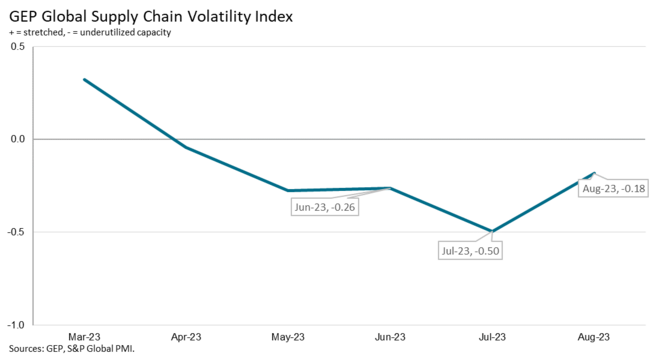 GEP Global Volatility Index September
August is the 14th month in a row in which global demand displayed weakness, reflecting the fragile global economic environment. The data suggests conditions are most fragile in Europe, where demand continues to fall, and recession risks appear to be higher.
Demand also fell in North America in August, indicating a slowing economy. In contrast, demand conditions are more stable in Asia, despite the slow Chinese economy, with purchasing rising strongly in India, Indonesia and Vietnam.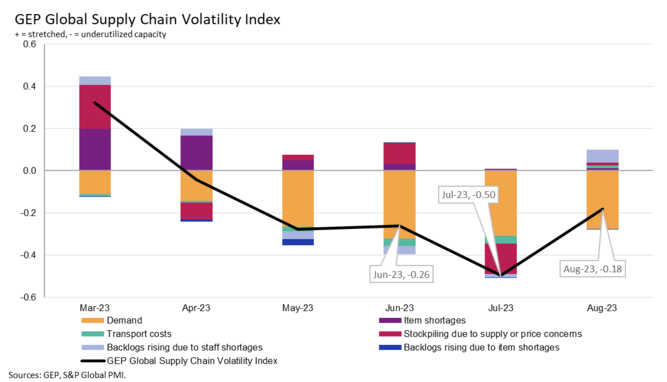 GEP Global Volatility Index capacity
Regional supply chain volatility
NORTH AMERICA: Index fell to -0.55 from -0.37 as demand for materials worsened and firms destocked again.
EUROPE: Index rose from the global financial crisis low in July of -1.07 to -0.50, but nonetheless indicates a marked rise in supplier spare capacity.
U.K: Index was little changed in August at -0.92, versus -1.01 in July as the struggling European economy hits U.K. suppliers.
ASIA: Index rose to 0.06, from -0.31, signalling a faint uptick in Asian supply chain volatility compared to July.
How does the GEP Global Supply Chain Volatility Index work?
The GEP Global Supply Chain Volatility Index is produced by S&P Global and GEP. It is derived from S&P Global's PMI surveys and sent to 27,000 global companies. The headline figure is a weighted sum of six sub-indices derived from PMI data, PMI Comments Trackers and PMI Commodity Price & Supply Indicators compiled by S&P Global.
What do the values in the GEP Global Supply Chain Volatility Index mean?
A value above 0 indicates that supply chain capacity is being stretched and supply chain volatility is increasing. The further above 0, the greater the extent to which capacity is being stretched.
A value below 0 indicates that supply chain capacity is being underutilised, reducing supply chain volatility. The further below 0, the greater the extent to which capacity is being underutilised.
*************************************************
For more insights into Procurement & Supply Chain - check out the latest edition of Procurement Magazine and be sure to follow us on LinkedIn & Twitter
Other magazines that may be of interest - Supply Chain Magazine | Sustainability Magazine
Please also check out our upcoming event - Procurement & Supply Chain LIVE in London at the BDC on Sept 26/27th 2023
*********************************************
BizClik is a global provider of B2B digital media platforms that cover 'Executive Communities' for CEOs, CFOs, CMOs, Sustainability Leaders, Procurement & Supply Chain Leaders, Technology & AI Leaders, Cyber Leaders, FinTech & InsurTech Leaders as well as covering industries such as Manufacturing, Mining, Energy, EV, Construction, Healthcare + Food & Drink.
BizClik, based in London, Dubai & New York offers services such as Content Creation, Advertising & Sponsorship Solutions, Webinars & Events.