Explained: GEP launch GEP Quantum for procurement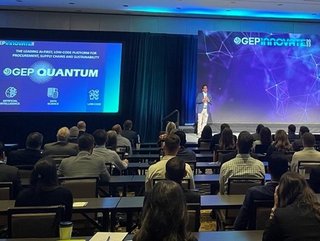 Subhash Makhija welcoming clients to GEP INNOVATE 2023, and announcing the launch of GEP QUANTUM (Credit: GEP)
GEP have launched their new platform GEP Quantum at GEP Innovate 2023, what is it and what benefits could it bring to procurement and supply chain teams?
GEP have unveiled their new AI-first, low-code solution for sustainable procurement and supply chains at GEP Innovate 2023, its annual global user conference. They are promising the technology that powers GEP SMART, GEP NEXXE and GEP GREEN and provides vast new capabilities to the work process applications.
What is GEP Quantum?
All of GEP work process applications now implement the technology of GEP Quantum, including source-to-pay solution GEP SMART, as well as supply chain visibility solution GEP NEXXE, and the new sustainability application GEP GREEN.
GEP Quantum was designed, conceived, and built in-house by more than 1000 engineers over the last six months, and is planned to lead the company's AI driven offerings in the coming years.
The company says it allows clients to apply AI to drive efficiency, automation, agility and visibility into all procurement, ESG, and supply chain functions to achieve maximum ROI. GEP's partners will subscribe to GEP Quantum's low-code development studio for app development and to GEP Quantum's analytics for advanced data management functions.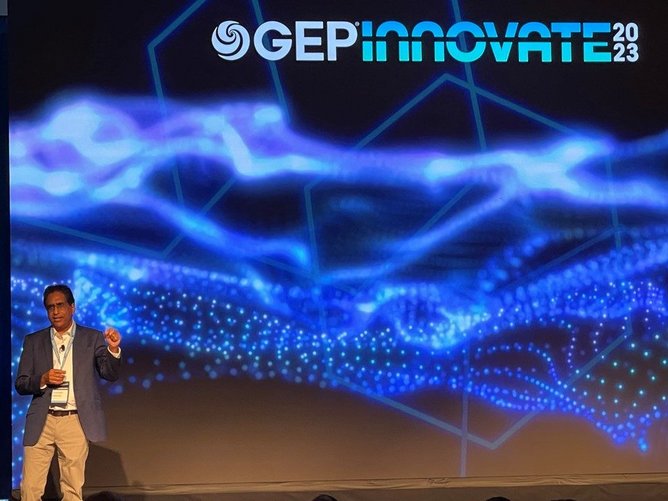 Subhash Makhija opening and welcoming clients to GEP INNOVATE 2023, and announcing the launch of GEP QUANTUM
Convergence between procurement and supply chain
"The traditional boundaries between procurement and supply chain are blurring because they are in fact converging," said Subhash Makhija, CEO of GEP. "And indeed sustainability is not separate to these processes but integral to them. We designed and launched GEP Quantum in recognition of where our customers are now and where they are rapidly heading – in terms of their requirements, their expectations and aspirations as technological, environmental, economic, and political changes drives new visions of how we work and what we change achieve," explained Subhash.
Santosh Nair, chief product officer, GEP further explains "GEP Quantum, which powers all the GEP work process applications and will be the leading platform for innovation in sustainability, procurement and supply chain in the years to come. It enables our clients to accomplish the holy grail -- to optimise costs, mitigate risk, and achieve their sustainability goals."
Read more from GEP's founder Neha Shah on how augmented AI is helping the future of business.
*************************************************
For more insights into Procurement & Supply Chain - check out the latest edition of Procurement Magazine and be sure to follow us on LinkedIn & Twitter
Other magazines that may be of interest - Supply Chain Magazine | Sustainability Magazine
*********************************************
BizClik is a global provider of B2B digital media platforms that cover 'Executive Communities' for CEOs, CFOs, CMOs, Sustainability Leaders, Procurement & Supply Chain Leaders, Technology & AI Leaders, Cyber Leaders, FinTech & InsurTech Leaders as well as covering industries such as Manufacturing, Mining, Energy, EV, Construction, Healthcare + Food & Drink.
BizClik, based in London, Dubai & New York offers services such as Content Creation, Advertising & Sponsorship Solutions, Webinars & Events.