Oxfam Advisory Services Head, Clare Lissman on Human Rights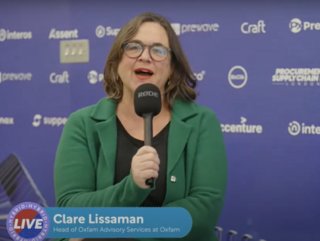 We sat down with Clare Lissman, Head of Oxfam Advisory Services, to speak about the socials component of ESGs, Human Rights, Gender Equality and more...
Could you introduce yourself and your role for your readers?
Many of your readers will know Oxfam. We're a global non-governmental organisation founded almost exactly 80 years ago.
But the fact that we have advisory services working with business on human rights impact in their supply chains is possibly a bit newer.
We're part of Oxfam in the UK, and we provide a business service to businesses, helping them to implement all the kinds of things that we as Oxfam - as a campaigning research policy body - have been advising companies to do for a while now.
We think businesses should operate in a way that has a positive human rights impact.
We now provide that practical and pragmatic support to assist companies look through their supply chains and operations and say, "how can we do things that are better for people?"
Does Oxfam advisory service have a typical kind of client?
We really work more across issues, than sectors. We work across a gamut of issues like human rights, due diligence and labour rights.
We also work particularly on the living wage, living income, issues around purchasing practices and their impacts, and around gender and voice.
That might include things like grievance mechanisms and how businesses can implement them as part of their human rights due diligence in terms of sectors aligned with Oxfam's work in recent years.
We also do a lot of work in food, with food and beverage companies, with retail - particularly grocery and fashion - and also FMCG (Fast-moving consumer goods) - but we could work across sectors.
How do you help customers around the social aspect of ESGs?
I'm certainly hearing loads about environmental, carbon and science-based targets, and these are very quantifiable.
So I think the social side of ESG can sometimes feel a bit quieter in these conversations. And for Oxfam, we're about a radically better world improving impacts on people.
For our customers, our clients and the companies we work with, they're asking, "how do we do this in a really practical way? We can set up commitments to say we want to embed human rights, and we want to have the living wage - but what does it actually mean to do that?"
So we will work with them on reviewing policies, because things begin with policies and then it's about identifying where the gaps are.
As Oxfam, we take a worker-centric, participatory and gender-lens approach to how we even approach that question.
I think that's what makes us a little bit different.
For example, we've worked with a client on developing a toolkit so they can implement site-level grievance mechanisms across their entire global supply chain.
So we'll work with implementing systems like that, and provide capacity to their teams to communicate the message: "This is how you might start thinking about this working, and this is how you can implement."
Another example is when we worked with the International Coffee Organisation on a gender transformative tracker tool. So starting 'thinking-in-coffee', (which sounds very NGO doesn't it?).
But the question is how do you really look at the livelihood impact on women? And if you start thinking about that very specifically, you start having really positive impacts, - that's simultaneously good for business.
Clare Lissman is Head of Oxfam Advisory Services

This interview took place at Procurement and Supply Chain LIVE London 2022. To keep up to date with upcoming events in Procurement and Supply chain, register your interest for free.