Circular economies and behavioural science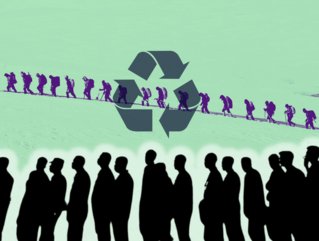 The possibility of achieving circular economies rests on approaches to consumption, and human and corporate behaviour
A recent article from Circular Online, a website for sustainability professionals working in resources and waste, looked at the relationship between behavioural science and circular economies.
The possibility of achieving circular economies rests, of course, on approaches to consumption and so human behaviour forms a key link in the entire chain.
The relationship between individual and social consumption-behaviours, and larger organisational and corporate behaviours is also an inseparable one.
The head of behaviour change and impact at consultancy Resource Futures, Gwen Frost, believes behavioural science has "a massive role to play" in moving the country towards its recycling ambitions. She says "people have been told many times to recycle; they know they should – so now we are down to nudging and persuading."
This is exactly what happened and is happening in the corporate world.
Corporations and private organisations have been aware that their activities were having an obvious impact on climate change since at least the 1950s, and an InsideClimate report has said that ExxonMobil was aware that anthropogenic climate change was likely as early as 1977.
In 1995 the Intergovernmental Panel on Climate Change gave a definitive statement that human behaviour was responsible for post-industrial global warming, and as of 2010, there was a 97 percent consensus among scientists that climate change was caused by humans.
But despite this awareness, most corporations failed to act because it was perceived as detrimental to their profit margins. The 'nudging and persuading' only effectively came about under mandatory ESG reporting, ('disclosure'), where organisations are required to present data from financial and non-financial sources that shows they are meeting the standards of agencies such as the Sustainability Accounting Standards Board, the Global Reporting Initiative, and the Task Force on Climate-related Financial Disclosures. Data must also be made available to rating agencies and shareholders.
So the corporate nudge came about due to compulsion, but the question remains whether this is enough to achieve sustainability through circular economies in any true sense.
On the level of social consumption behaviours, Belinda Miller, insight director at Corporate Culture, thinks that on the 'awareness front' although campaigns have a role to play, they don't work in isolation. "National campaigns are effective at winning over hearts and minds, or as a call to action, but more targeted messaging is also needed to change behaviours."
Miller explains that a behaviour-change project starts with gathering insight on the problem and understanding the local context.
This is perfectly analogous to the way in which data is absolutely essential to ESGs in the corporate world, and reflects the move to develop more sophisticated systems in understanding actors' carbon footprints.
"You look at the customer journey, the same as any other industry, and map out every single thing – what, where, when, why and how.
"Once you understand the problem and context, you can identify your audiences and what gets in the way of them carrying out the behaviours that you want – then identify interventions that will tackle those barriers," she says.
Gavin Ellis, director and co-founder of Hubbub, says it's critical to ensure the right systems are in place before trying to persuade people to take action.
Again, this echoes large organisational behavioural changes. The efforts towards circular economies is one that must be reflected on both the micro and macro levels.
Ellkis says, "Meeting people where they are currently at is key. It's unrealistic to expect people to care as much about recycling as you do."
It would be a hard sell to say that corporations (or at least 'most' corporations) 'care' about circular economies, especially if they perceive them to be at odds with their own interests. The recent moves in ESG reporting have aligned corporate interests with the wider environmental interests to act as the catalyst to shape this behaviour change.
The reputation of each company hangs in the balance as viable or non-grata actors on the world stage.